A woman mourns in front of her husband's dead body which lies on the street under tarpaulin alongside other dead bodies
Officials in the devastated Philippines say the super typhoon that happened yesterday has caused a 'tsunami-like disaster' and it is feared 10,000 people have been killed in one city alone. There are reports of major looting in Tacloban, Leyte – which has been most badly damaged by the typhoon – and the government is considering introducing martial law to ensure security.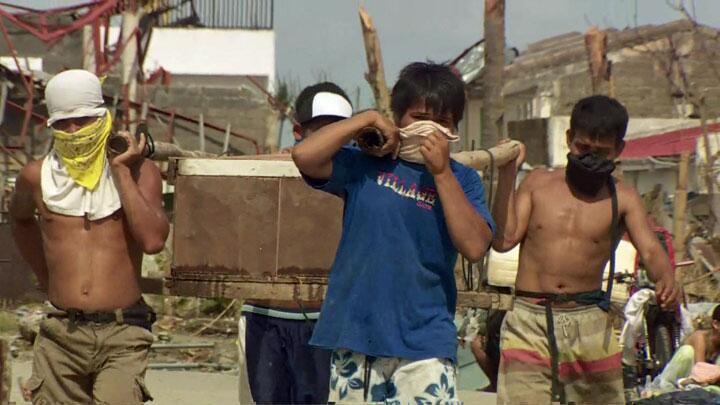 Efforts by aid agencies to deliver food and water to the worst affected areas have been hampered by severed roads and communications and witnesses say people are taking whatever they can from shops and garages. A TV station said ATM machines have been broken open in tacloban.
President Benigno Aquino said the government had deployed 300 soldiers and police to restore order and that he was considering introducing martial law or a state of emergency in Tacloban to ensure security. 'Tonight, a column of armoured vehicles will be arriving in Tacloban to show the government's resolve and to stop this looting,' he said. As Vietnam braced itself for the onslaught of Typhoon Haiyan last night, in the Philippines, bodies have been seen floating down the streets and hanging from trees, cars lying upside down and houses reduced to a pile of soggy mud and brick. Eastern islands and the centre of the country were battered by winds in excess of 200mph. Super typhoon Haiyan is believed to be the strongest storm to ever hit land.
Please don't forget to remember them in your prayers.
See more graphic photos after the cut: