 This definitely isn't the best thing to have to deal with during Christmas! Shocking alleged photos of Usher's penis while receiving oral se x from ex-wife Tameka Foster have hit the internet. And according to Gossip Cop, the pictures, though not yet confirmed to be authentic, are allegedly from the former couple's stolen se x tape.
The illicit home movie was on a computer that was stolen, along with other possessions, from Usher when his car was broken into in 2009. Two years later, an unidentified person tried shopping the personal porno to outlets, but there were no takers. The stolen footage eventually came back on the market this November, with the material being offered to blogs and websites.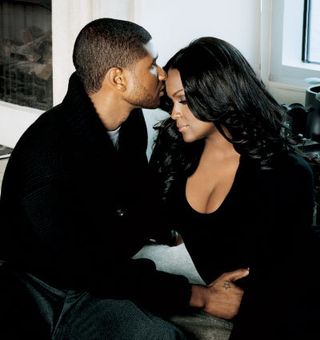 Now six weeks later, on Christmas Eve, purported screengrabs from the sex tape began circulating on the web. The images show a woman, said to be Foster, performing a graphic sexual act. While the man's penis is visible, the face of the person whom it belongs to is not. Usher's attorney was said to be investigating and trying to track down the seller, who could potentially face prosecution for possessing stolen property.