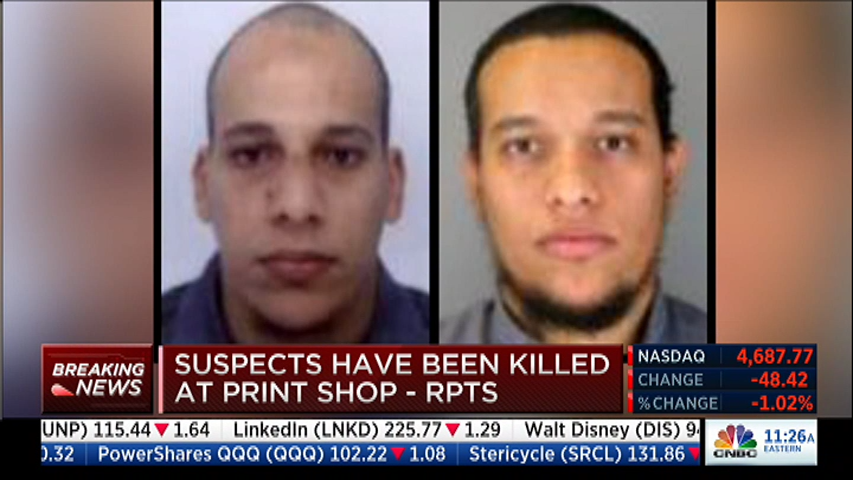 Police launched an assault Friday on a factory in northern France where the two brothers suspected in the Charlie Hebdo massacre were believed to be holding a hostage.
Separately, a gunman was believed holding at least five hostages Friday at a kosher supermarket in eastern Paris.
Four explosions were heard at the site of the assault in the town of Dammartin-en-Goele, a 12 kilometer (seven-mile) drive from Charles De Gaulle Airport. Police cordoned off an industrial estate, and French news channel France 24 reported that 1,000 officers were involved.
The two brothers were been cornered by police inside a printing house in Dammartin-en-Goele. One police officer told The Associated Press earlier that the suspects told negotiators they "want to die as martyrs."
A police official has told reporters that the gunman held up inside the kosher store is believed responsible for the roadside killing of a Paris policewoman on Thursday. Authorities released a photo of him and a female accomplice but were unclear about her whereabouts.
The gunman at the kosher market has apparently threatened to kill his hostages if police launched an assault on the cornered brothers suspected in the newspaper massacre, an unidentified police official told The Associated Press earlier.
Police have closed down a ring road that circles Paris near the kosher supermarket, which would have busy ahead of the approaching Jewish Sabbath at sundown.